Air source heat pumps are great for saving money on your energy bills and reducing your carbon footprint. They are the most common type of heat pump available because of their running efficiency. At Finbra, we care for our customers, that's why all of our engineers are highly trained and qualified to get the job done. If you are considering converting from a boiler to an air source heat pump, contact us today to get a free quote.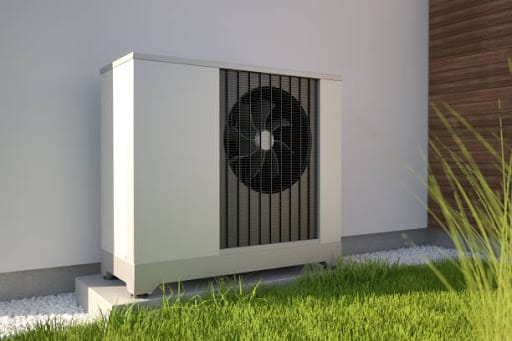 Should I Leave My Air Source Heat Pump On All The Time
It is advised that heat pumps should never be switched off entirely. This is because air source heat pumps operate most effectively when retaining a steady temperature. You will use more energy turning a heat pump down when you are away or asleep rather than leaving it on. This is because a heating pump has to work harder to come back to the desired temperature than it does to sustain it. During the winter months, there is no concern if it runs for longer periods rather than a traditional heating system. Check the different modes on the heat pump and tailor them to the weather conditions. If you experience a power cut the heat pump will switch off. The heat pump will take some time to heal itself again. Always check the instructions as this might happen automatically or you may be required to select a setting.
How Long Do Air Source Heat Pumps Last
Air source heat pumps normally last up to 15 to 20 years. Some newer units can last longer up to 25 years. Maintenance is key to determining its lifespan. Clean every couple of months and have it serviced annually is all that is required. Air source heat pump systems can be installed in a week.
Do Heat Pumps Turn On And Off Frequently?
If your heat pump turns on and off frequently, this means that it is having trouble heating or cooling your home. The unit cannot maintain a set temperature, therefore, it restarts continuously. Check your air filter first whenever the heat pump malfunctions. After a while, debris and dust will form on your filter.
Other reasons why the air source heat pump turns on and off are:
Air filter clog
Thermostat error
Oversized unit
Leaky refrigerant
If you notice any of the above, get in touch with an engineer so they can help resolve the issue.
Air Source Heat Pump Not Heating
Any malfunctions from your air source heat pump are normally easy to detect, particularly if the weather is cold. Heat pumps are very reliable, so mechanical failures are rare, however, annual services should be done to make sure it runs smoothly and efficiently. If your system is low on refrigerant charge it won't be able to maintain your heating or cooling demands. Another indication of a low refrigerant charge is a frozen coil, if your heat pump is not providing heat but works in cooling mode, this might mean you have a bad reversing valve.
Things To Check Yourself Before Calling Finbra
Before you contact an engineer, you should perform some checks to determine the cause of the problem. Firstly, if anything goes wrong the first thing you should check is that the thermostat is at the right temperature and is at the correct heat and cool setting. Secondly, check the outdoor unit. In the winter, the unit might be covered in ice so the pump should automatically run a defrost cycle to remove the ice from the system. Not only this but leaves or other debris can block the heat exchanger. When this happens, the system can fail, meaning the heat pump can run longer than supposed to. Call an engineer to determine the cause and help fix the problem.
Advantages of Air Source Heat Pumps
There are many benefits if you are considering choosing an air source heat pump to heat your home:
Reduced energy bills
Low carbon footprint
Highly efficient performance
Long-lasting
Easy maintenance
May be eligible for the Boiler Upgrade Scheme available from 23rd May 2022.
Simple installation process
No fuel storage is required as it comes from the air
Cheaper to run and install
If an air source heat pump sounds interesting to you and are considering purchasing one, simply contact us and we can get you started.
Contact Us
If you are looking to cut your carbon emissions and save money in the long-term contact Finbra today. We supply and fit air source heat pumps, ground source heat pumps and biomass boilers in the Ipswich, Framlingham, Woodbridge, Aldeburgh, Felixstowe, Southwold and surrounding areas. To discover more, contact us directly on 01394337497 or fill in a contact form.